Making the Most of the Resources on the Fable Learning Website
By Linda Hoyt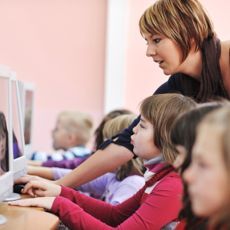 It is no secret that teachers work hard, putting in long hours both at school and on the work you take home. The addition of Common Core State Standards and introduction of technology into classrooms has elevated the level of challenge for all of us. But here is some good news! Fable Learning, a company built by experienced educators, understands your desire to lift learners to the highest levels of reading, thinking, and learning. So, as we have created this website we have added tools to help you find eBooks that link to Common Core State Standards, identify alphabetic reading levels, Lexiles, and include free Teaching Links that will help you get the most from each and every book.
To maximize your use of this site and the tools that are offered, it may be helpful to first identify the purpose for which you will be using the book. Will it be a read aloud to link to a smart board or projection system? Will it be used for small group instruction with a limited number of readers? Or, will it be for independent reading and research conducted by a student working alone?
Select an Instructional Approach
Read Aloud:  If your goal is read aloud, then you can do a quick search for books that make great read alouds for students in your grade range.  You can also search by topic to find read aloud selections that match units of study or themes that you are exploring with your students – just enter key words into the Search box on every page.  Since students are not necessarily reading along during a read aloud, you don't need to worry about reading level but instead can use this as an opportunity to extend world knowledge and expose your students to levels of text complexity that they could not manage on their own.
Small Group Instruction:  If your purpose is to gather a small group of students for reading instruction, you will want to ensure that you provide readers with a book that is at or close to their instructional level. Here is where the alphabetic leveling system is essential. Using a running record, reading miscue inventory, or other benchmarking process, identify the reading levels of your students. Then, you can enter the reading level you are searching for in the "Browse" toolbar on the left of the homepage and search this site for books at that level. Research has proven again and again that small group instruction carries its greatest impact when it targets the instructional level.[1] This is especially true for vulnerable learners.
Independent Reading and Research: When students are to read independently or conduct independent research, they need to be reading materials that are within their independent reading range. This means that they should be able to read with understanding at 95-100% accuracy. This kind of high success reading ensures that independent practice is meaningful, is supportive of effective reading strategies, and enables learners to develop positive images of themselves as readers and researchers. When selecting books for this kind of independent work, you can easily search for reading levels that build success and support differentiation.
Connect to the Common Core State Standards
Common Core State Standards are the heart of instruction in most states, and there are multiple ways to make connections between the standards and the literature selections on this site.
Identify a Standard:  You will notice that each title on the site has been matched to Common Core Anchor Standards for reading, writing, language, plus speaking and listening. This is a huge advantage as you will be able to scan for book selections that make anchor standards particularly accessible. All you have to do is select the grade level and a standard from the "Browse" toolbar and you will get a list of books that offer direct support to the target learning! 
Consider Text Complexity: Text complexity is measured with a three-part analysis of each text: quantitative, qualitative, and matching reader to text and task.
1. For the quantitative analysis, the Common Core recommends looking at Lexile level. With that in mind, we have matched each offering in the Fable Learning Library to a Lexile level. While there are certainly other readability measures that can be used, we've chosen to use Lexiles because they provide standard units of measure. 
2. A qualitative analysis of the text means a quick look at the challenges presented by the meaning, structure, language conventionality, clarity and perhaps most importantly, demands on background knowledge. Only you, as the informed guide to the readers you serve, can determine if the qualitative demands of a book are the right match for your students.
3. The third analysis point, matching readers and task variables, is another measure that only you, as the guide-by-the-side can offer. For this consideration, examine the level of motivation for the topic, related experiences (Has this learner ever seen the ocean? is a powerful reflection in considering a book about ocean life), the purpose for the reading, and the complexity of the response, if any, that a reader will need to navigate.
Use the Teaching Links
Shelley Harwayne once said that each instructional moment is like a precious pearl—a treasure meant to be used with great care. What good advice! With this in mind, be sure to notice the Teaching Links that are provided with each eBook selection. These links provide suggestions for ways to extend the learning with multi-modal responses, analytical book reviews, or written responses. You will notice that some Teaching Links also provide suggested higher-order questions that you might use for close readings and text dependent questioning. These are not busy work, but rather invitations for deep and thoughtful reflection that will enhance understanding and extract high quality comprehension. The Teaching Links are fun, motivating, and sure to help your learners think more deeply.
---
 Linda Hoyt has had a rich array of experiences in education ranging from classroom teaching to working as a reading specialist, curriculum developer, Title I teacher, staff developer, and Title I District Coordinator. She is the author of twenty-four powerful professional books, six video programs, and instructional resources published with National Geographic School Publishing and Rigby Education. Her energetic presentation style and practical strategies have made her one of the most requested literacy speakers in the United States.  
---
[1] Allington, 2010; Guthrie and Humenick, 2004; Vaughn and Linan-Thompson, 2003
Fable Learning © 2012-2017 Isabella Products, Inc.Web Development by Web3Box Software